The San Fernando Valley, North Hills, CA
About San Fernando Valley
An urbanized valley in the Los Angeles Metropolitan Area, the San Fernando Valley has prospered greatly since the early 20th Century when it was first developed. Known to locals as simply, "the Valley", the region is a desirable place to live among California home buyers, boasting over 1.8 million people and encompassing approximately 260 square miles. Surrounded by the majestic Santa Susana, Santa Monica, Verdugo, and San Gabriel Mountains, San Fernando Valley real estate is conveniently located just minutes away from the larger Los Angeles Basin. A total of 2/3 of the region is considered to be incorporated by the city of Los Angeles, however, there are several individually incorporated cities as well, including Glendale, Calabasas, Hidden Hills, San Fernando, and Burbank. Unincorporated areas featuring homes for sale in San Fernando Valley include Universal City, Bell Canyon, Calabasas Highlands, and others.
No matter what type of San Fernando Valley real estate one desires, the region offers a wide selection of properties to choose from. From urban lofts and historic apartments, to modern condominiums and stately single-family estates, the homes for sale in San Fernando Valley continuously attract a myriad of buyers.
The Amenities Surrounding San Fernando Valley Real Estate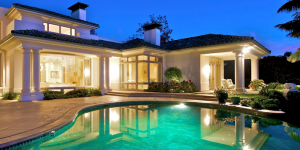 Those who purchase San Fernando Valley real estate are typically attracted to the area's convenient location. In just minutes, residents can enjoy the urban amenities of Los Angeles, including some of the nation's finest restaurants, shops, and entertainment venues. Numerous companies are located within close proximity to homes for sale in San Fernando Valley, making for quite the easy commute. Entertainment-related businesses, like The Walt Disney Company, NBCUniversal, and CBS Studio Center are especially notable and employ many. Search current San Fernando Valley real estate for sale below by using the interactive map-based property search. For more information, contact Philip Nastasi of Rodeo Realty today.
Some Real Estate listings in The San Fernando Valley, North Hills, CA
Area Details for
The San Fernando Valley, North Hills, CA
Recent Sales in The San Fernando Valley, North Hills, CA